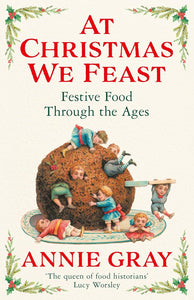 For many people Christmas wouldn't be Christmas without a turkey and trimmings, pudding and brandy butter. But where do our traditions come from - and when modern writers 'reinvent' the Christmas meal, are they really doing anything so very different?

Annie Gray presents a delectable trip through time, from the earliest mentions of gluttonous meals at Christmas to the trappings and traditions of the present day. Tracing the birth of the twelve-day celebration under Edward I to the restoration of holiday splendour under Victoria, At Christmas We Feast is organised by festive dish, and features classic recipes alongside vibrant cultural and historical context.

From the familiarity of plum pudding and mince pies to the extravagance of boar's head and brawn, At Christmas We Feast is stuffed full of recipes, doused with history and tradition, and sprinkled with the joy of the feasts of Christmas past.
Pages: 256
Dimensions: 13.4 x 2.8 x 20cm