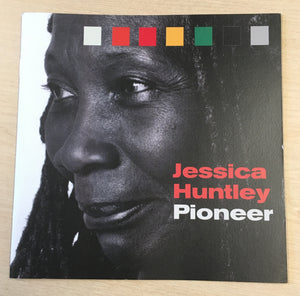 Celebrating Jessica Huntley by the Friends of the Huntley Archives at LMA
This short book looks into Jessica Huntley's life and work in Bogle-L'Ouverture Publications (BLP), a radical London-based publishing company, which, along with Allen & Busby and New Beacon Books, began operating during a period in the UK when books by Black authors or written with a sympathetic view of Black people's history and culture were extremely rare in mainstream bookshops in the UK. It was the year beforehand, in 1968 that Jessica and Eric Huntley opened their first bookshop in the living room at their home in Coldershaw Road, Ealing. The place soon became a visitors' hotspot, central focus for Black and migrant communities. After being forced to find commercial premises some years later, The Bookshop was named, Bogle-L'Ouverture bookshop. and five years later was then renamed the Walter Rodney Bookshop, after the scholar activist's assassination in 1980.
On display for seven-months at Gunnersbury Park Museum "More than Words: Writing the Wrongs" is an important exhibit-  a place holding well-rounded conversations about Blackness, heritage, creativity, anti-racism, and educational activism – leading to the annual Huntley conference on 24 February 2024. Ealing residents for more than 60 years, the contributions and lasting legacies of Jessica and Eric Huntley are important stories that is being shared. Although part of what is now dubbed the "Windrush Generation", long before today's attention has galvanised around those two words, the Huntleys were at the forefront of forging a new paradigm in the United Kingdom: Black British culture.